Courses
Gather together with makers of all levels to learn new skills and celebrate traditional crafts and regenerative living. Whether you're interested in half-day workshops or multi-week courses, there's something for everyone! Located in Fredericton, New Brunswick, Canada, we offer hands-on experiences in a variety of subjects, all taught in either the beautiful studios at the New Brunswick College of Craft & Design (NBCCD) or one of our partnering locations.

Free Motion Embroidery | Kathy Tidswell
October 14 @ 9:00 am

-

4:00 pm

$89.00 – $119.00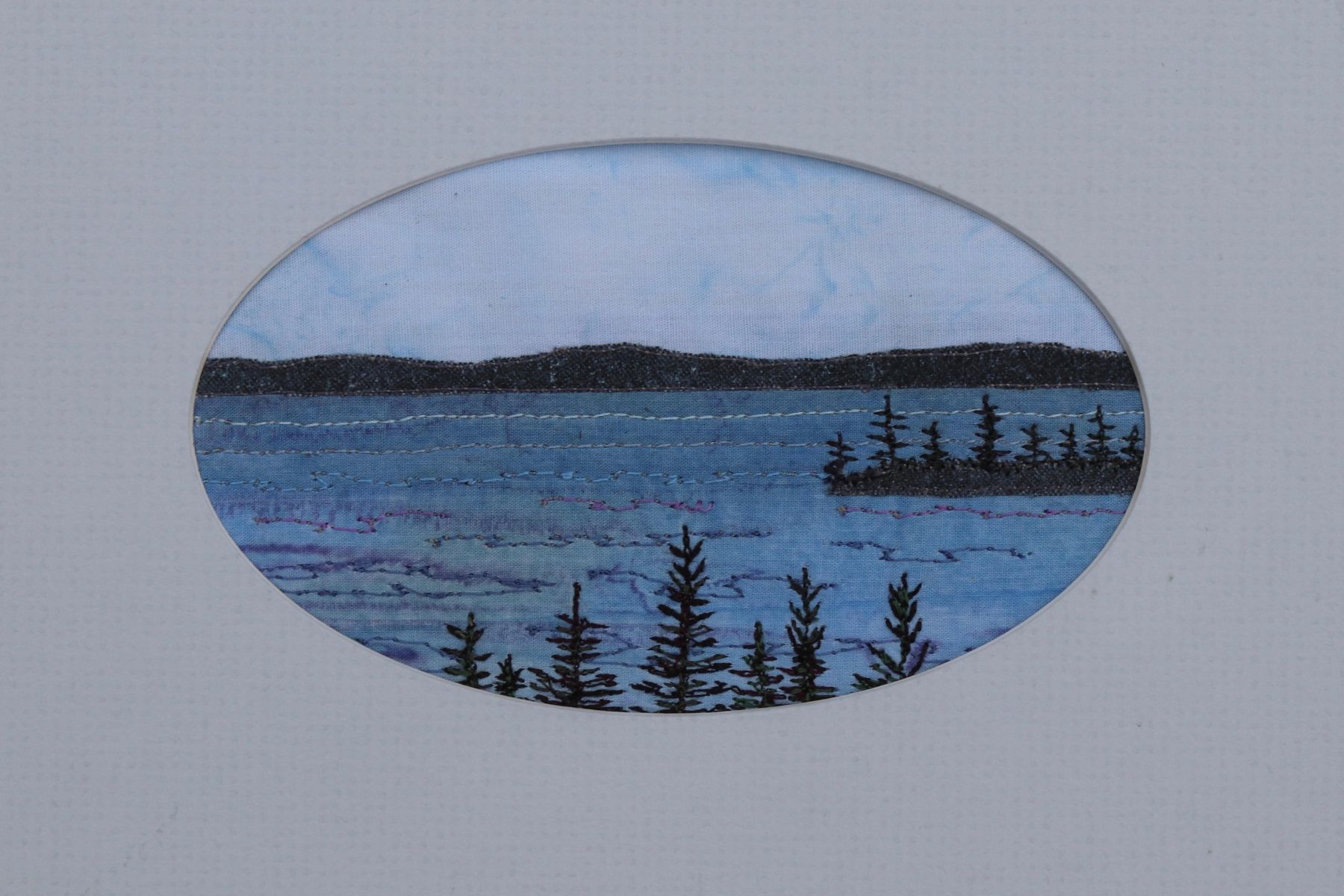 1-DAY WORKSHOP
Would you like to dive into the world of free motion embroidery? In this course, you will explore the art of free motion embroidery, mastering the use of your own basic zigzag sewing machine and a darning foot. Throughout the workshop, we will engage in discussions about various design aspects in landscapes, such as composition, depth, perspective, and the use of color.
Next, we will delve into the basics of free motion embroidery to create beautiful landscapes. You will learn to craft grasses, leaves, flowers, weeds, trees, and more, resulting in your own project similar to the one shown in the image! During the course, you can opt to dedicate the entire day to perfecting your free motion stitches. Alternatively, if you wish to explore your unique artistic expression, you can create a design of your own. Your creativity is always encouraged!
To support your learning of free motion embroidery throughout the workshop, you will receive comprehensive notes.
TICKET PRICING & MATERIAL COST:
Regular ticket price (August 15 @ 12pm – October 7 @ 11:30pm): $119
NBCCD staff, faculty, and current students (including 2023 graduates) receive 20% off regular ticket sales while supplies last. Find the NBCCD Discount ticket below.
Additional material fee: $10 for special hoop tool, instructor also has some for use during course.
Additional Materials:
1. Zigzag sewing machine and its' manual.
2. Darning foot.
3. New machine embroidery needles 75/11 or 90/14 if you are using rayon embroidery threads.
4. 7 inch to 10 inch slim wooden embroidery hoop. A regular hoop will NOT substitute. It is too wide to pass under the presser foot. I will have some hoops available for sale or to borrow for the class.
5. You will be making samples of weeds, trees , flowers, texture in water etc. so bring threads in greens (several shades), browns, black, white, yellows, blues etc. If you have rayon embroidery and metallic threads in these colours, bring them, but it's not necessary to purchase them especially for this class. Instead, bring threads from your stash in these colours.
6. Several squares of muslin or plain light cotton approx. 12 inches square and several pieces of stabilizer such as tear- away to back your pieces.
7. Scissors, pins, ruler etc. ie normal sewing kit.
8. If you plan to start the 5 inch by 7 inch landscape, you will need small pieces for sky, mountain and water and spool of invisible thread. Some people prefer to spend the time perfecting the sampler. In that case you won't need this fabric.
FAQ and refund information can be found at the bottom of this page.
THE INSTRUCTOR:
Kathy combines painting on fabric with free-motion embroidery to produce thread-painted works of art. She also blends innovative and traditional techniques to create unique wall quilts and original wearable art.
Kathy's award-winning work has been accepted into Grand National Juried Quilt Exhibitions, Studio Art Quilt Associates regional shows, Canadian Quilters' Association National Juried shows, and group and solos exhibitions locally and nationally.
Kathy has taught at five Quilt Canada conferences, for shops and guilds throughout Canada, in the UK, and in Europe. In 2005 she received the Canadian Quilters' Association Teacher of the Year Award.
Learn more about what we do at Honeybee Folk School and what courses we have coming up!
FAQ
Refunds
If a request for a refund is made between 8 and 14 days before the course begins, a 95% refund will be granted (5% will be retained to cover processing fees). If a request for a refund is made 7 days or fewer before the course begins, a refund will only be granted if the participant's spot is able to be filled.
If a participant is unable to attend a course due to illness or family emergency, they may be eligible to receive a voucher for a portion of the course fee. The participant must notify the HFS Coordinator at HoneybeeFolkSchool@nbccd.ca as soon as possible. The voucher amount will be determined on a case-by-case basis and may be up to 75% of the course fee.
Cancellations
If a workshop is cancelled due to unforeseen circumstances regarding the instructor, facilities or low enrolment, a 100% refund will be granted to registered participants.
If a class is cancelled due to inclement weather a new date will be set. If a participant cannot attend the rescheduled time, you will be granted a 100% refund.
For more information regarding cancellations, refunds, and our policies, please refer to our list of frequently asked questions.