Courses
Gather together with makers of all levels to learn new skills and celebrate traditional crafts and regenerative living. Whether you're interested in half-day workshops or multi-week courses, there's something for everyone! Located in Fredericton, New Brunswick, Canada, we offer hands-on experiences in a variety of subjects, all taught in either the beautiful studios at the New Brunswick College of Craft & Design (NBCCD) or one of our partnering locations.
Looking for Spring 2023 courses? There's still time to register for workshops on Saturday, April 29, including: Mosaic Sun Catcher, Silk Screen Saturday, and Lino Printmaking. CLICK HERE TO SIGN UP!

Intro to Weaving – Karen LeBlanc
July 10 @ 9:00 am

-

July 14 @ 4:00 pm

$316.00 – $395.00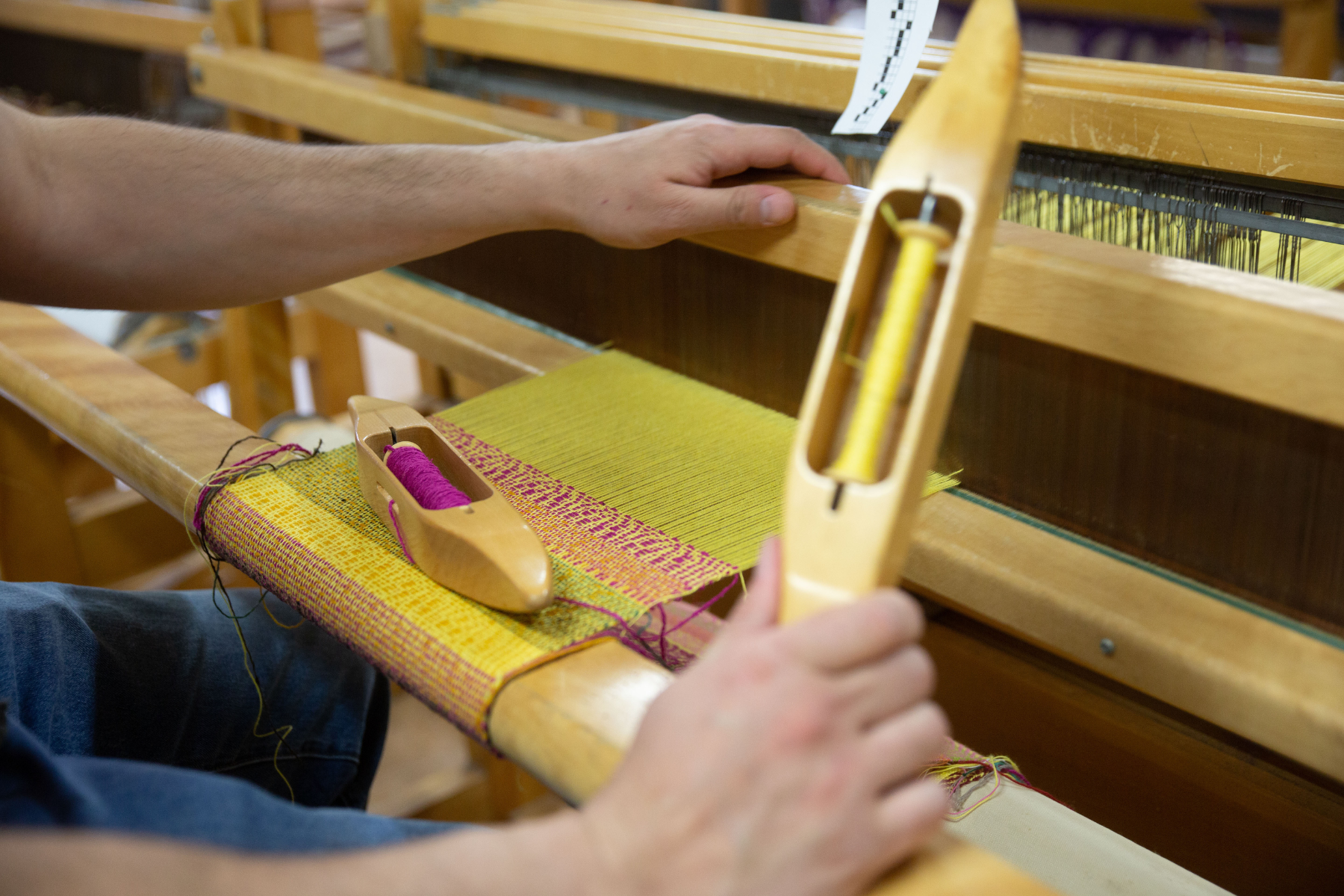 5-DAY COURSE
Monday to Friday, July 10-14, 9am – 4pm
In this 5-day course, Karen will take you through all the steps of weaving on a floor loom—from measuring your warp threads to cutting your first project off the loom. She will guide you through the vocabulary of weaving and you will go home with your own handwoven scarf, shawl, or pair of tea towels. The creative choices will be up to you. A love of yarn is encouraged but no weaving experience is necessary!
Please bring to class and mark with your name:
3-ring binder, note paper, pen/pencil, ruler, graph paper
Calculator
Tape measure (dressmaking type, not metal)
Sharp scissors for cutting fabric
TICKET PRICING & MATERIAL COST:
Regular ticket price (April 19 @ 12pm – June 26 @ 11:30pm): $395
NBCCD staff, faculty, and current students (including 2023 graduates) receive 20% off regular ticket sales while supplies last. Find the NBCCD Discount ticket below.
Additional material fees: $50+ (depending on the size of the project). Yarn can be purchased at the College Store on the first day of class.
FAQ and refund information can be found at the bottom of this page.
THE INSTRUCTOR:
Karen LeBlanc has been weaving for over 40 years! She has designed and woven clothing, blankets, table runners, scarves, shawls and much more! Karen has exhibited internationally, nationally, regionally and locally and participated in residencies in Fredericton, Toronto, and Parrsboro. In 2019, four woven wearables were part of the ArtWear fashion show and exhibition in Fort Collins CO. In 2022, Karen's "Primary Colours Weave the Future" proposal was selected for the Arc-en-ciel school for a public art installation, and she is currently working on an installation for the Hanwell Park Academy. Karen is a member of several professional organizations: American Tapestry Alliance, Handweavers Guild of America, CraftNB, Guild of Canadian Weavers, CraftNS, and many more.
FAQ
Refunds
If a request for a refund is made between 8 and 14 days before the course begins, a 95% refund will be granted (5% will be retained to cover processing fees). If a request for a refund is made 7 days or fewer before the course begins, a refund will only be granted if the participant's spot is able to be filled.
If a participant is unable to attend a course due to illness or family emergency, they may be eligible to receive a voucher for a portion of the course fee. The participant must notify the HFS Coordinator at HoneybeeFolkSchool@nbccd.ca as soon as possible. The voucher amount will be determined on a case-by-case basis and may be up to 75% of the course fee.
Cancellations
If a workshop is cancelled due to unforeseen circumstances regarding the instructor, facilities or low enrolment, a 100% refund will be granted to registered participants.
If a class is cancelled due to inclement weather a new date will be set. If a participant cannot attend the rescheduled time, you will be granted a 100% refund.
For more information regarding cancellations, refunds, and our policies, please refer to our list of frequently asked questions.