Courses
Gather together with makers of all levels to learn new skills and celebrate traditional crafts and regenerative living. Whether you're interested in half-day workshops or multi-week courses, there's something for everyone! Located in Fredericton, New Brunswick, Canada, we offer hands-on experiences in a variety of subjects, all taught in either the beautiful studios at the New Brunswick College of Craft & Design (NBCCD) or one of our partnering locations.

Learn Traditional Wood Carving | Tim Jones
October 21 @ 9:00 am

-

November 11 @ 4:00 pm

$270.00 – $356.00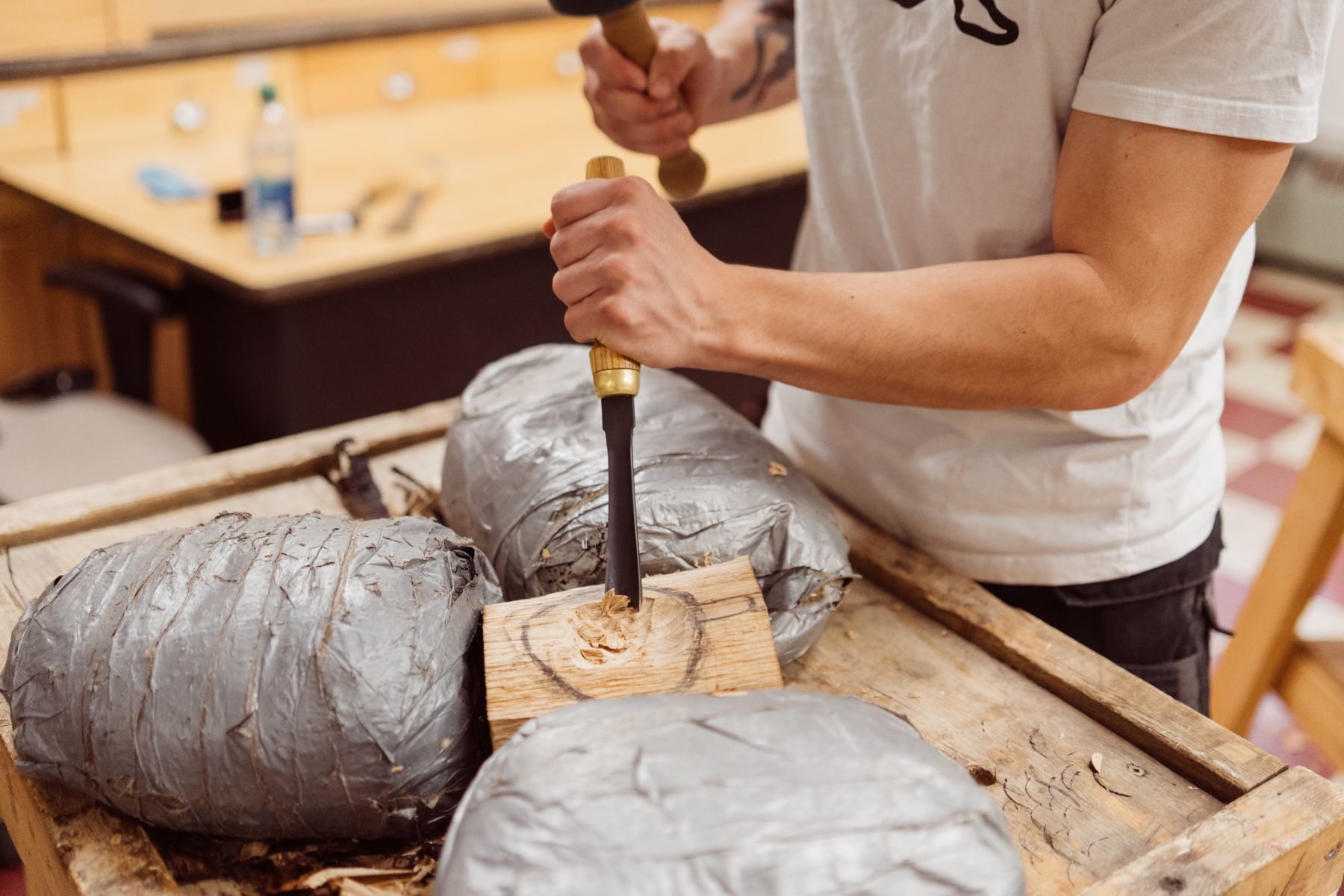 4-DAY WORKSHOP
Saturdays, October 21, November 4, November 18, November 25 from 9 AM to 4 PM
Ever wanted to Learn Traditional Wood Carving?
Carving wood, a tradition as old as time, awaits your exploration! See what all the fuss is about firsthand!
Join Timothy 'Bjorn' Jones in this beginner course, where you will learn how to carve wood without the use of power tools. Embrace a "back to roots" approach that focuses on working with carving knives and chisels, utilizing wood straight from the tree instead of prepared lumber. Throughout the course, you will delve into the art of spoon and kuksa carving, with the possibility of additional handouts for carving a wood spirit if time permits.
Throughout the course, you'll cover a range of topics and practices, including carving techniques with both knives and chisels, sanding, applying wood finishes, tool maintenance, sharpening, and much more. This comprehensive learning experience will set you on a path to becoming a skilled woodcarver. Don't miss this opportunity to learn traditional wood carving and be part of a rich and enduring tradition through carving spoons and kuksas!
TICKET PRICING* & MATERIAL COST:
Regular ticket price (August 15 @ 12pm – October 14 @ 11:30pm): $356
NBCCD staff, faculty, and current students (including 2023 graduates) receive 20% off regular ticket sales while supplies last. Find the NBCCD Discount ticket below.
Additional material fee: $30 paid to the instructor on the first day of the workshop.
FAQ and refund information can be found at the bottom of this page.
THE INSTRUCTOR:
Timothy 'Bjorn' Jones, an award-winning visual artist, has gained renown for his remarkable wooden sculptures. Through his art, he endeavors to challenge our interactions with trees within our industrialized society.
CBC News, CTV News, local newspapers, and international publications have all featured Bjorn's work. Notably, his recent exhibitions have showcased catalogued pieces at the esteemed Beaverbrook Art Gallery in New Brunswick. Bjorn's educational journey includes studies at the University of New Brunswick, Oulton College, and the New Brunswick College of Craft & Design, where he now serves as an instructor.
Learn more about what we do at Honeybee Folk School and what courses we have coming up!
FAQ
Refunds
If a request for a refund is made between 8 and 14 days before the course begins, a 95% refund will be granted (5% will be retained to cover processing fees). If a request for a refund is made 7 days or fewer before the course begins, a refund will only be granted if the participant's spot is able to be filled.
If a participant is unable to attend a course due to illness or family emergency, they may be eligible to receive a voucher for a portion of the course fee. The participant must notify the HFS Coordinator at HoneybeeFolkSchool@nbccd.ca as soon as possible. The voucher amount will be determined on a case-by-case basis and may be up to 75% of the course fee.
Cancellations
If a workshop is cancelled due to unforeseen circumstances regarding the instructor, facilities or low enrolment, a 100% refund will be granted to registered participants.
If a class is cancelled due to inclement weather a new date will be set. If a participant cannot attend the rescheduled time, you will be granted a 100% refund.
For more information regarding cancellations, refunds, and our policies, please refer to our list of frequently asked questions.