Courses
Gather together with makers of all levels to learn new skills and celebrate traditional crafts and regenerative living. Whether you're interested in half-day workshops or multi-week courses, there's something for everyone! Located in Fredericton, New Brunswick, Canada, we offer hands-on experiences in a variety of subjects, all taught in either the beautiful studios at the New Brunswick College of Craft & Design (NBCCD) or one of our partnering locations.
Looking for Spring 2023 courses? There's still time to register for workshops on Saturday, April 29, including: Mosaic Sun Catcher, Silk Screen Saturday, and Lino Printmaking. CLICK HERE TO SIGN UP!

Stacked Mosaic Garden Planter – Sheryl Crowley
July 17 @ 9:00 am

-

July 21 @ 4:00 pm

$316.00 – $395.00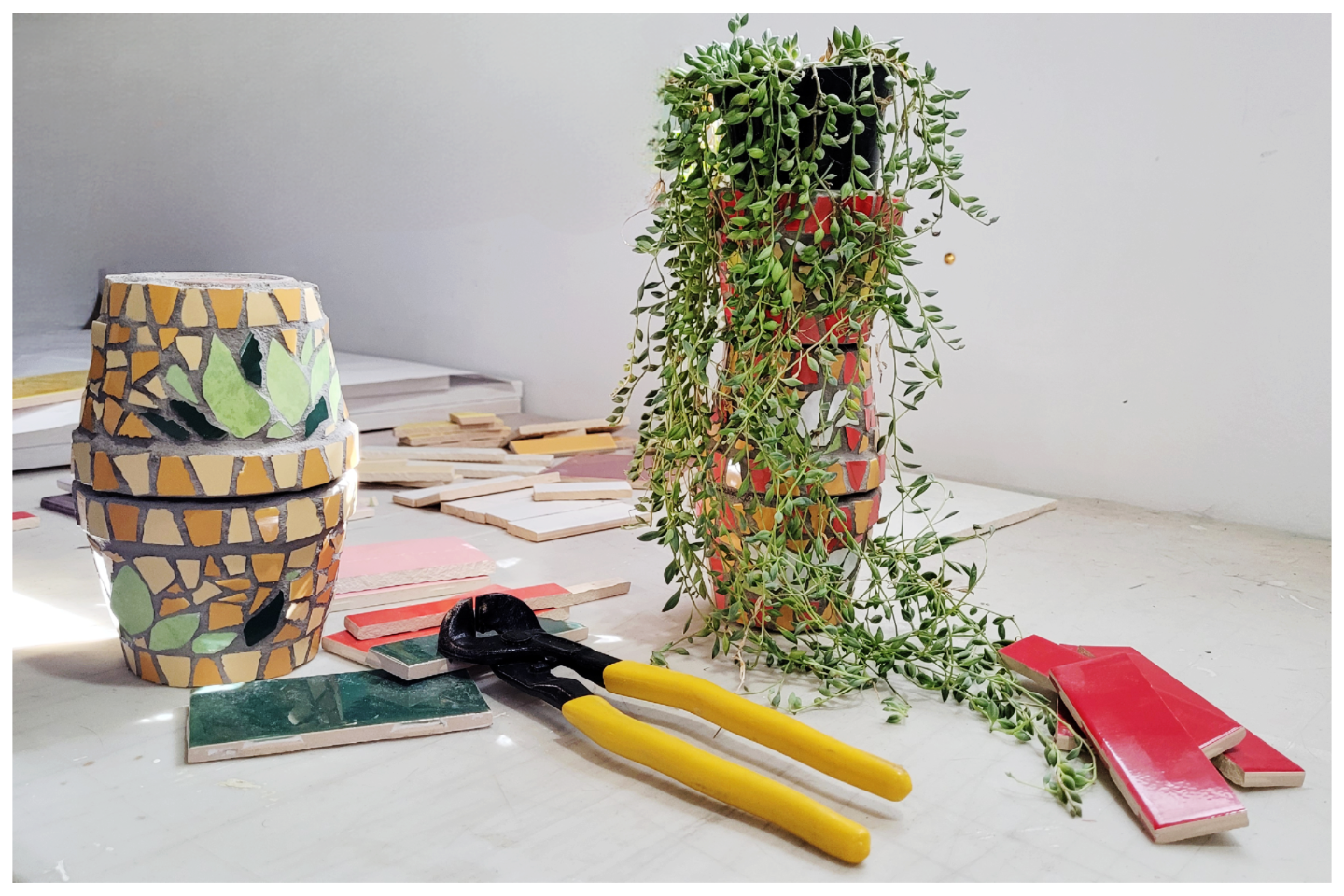 5-DAY COURSE
Monday to Friday, July 17-21, 9am – 4pm
Join Sheryl and create your own mosaic garden sculpture that will add excitement to your yard and green spaces. No previous experience needed, just bring your willingness to play and experiment and go home with your own stacked planter. Decorated with mosaic work, this will culminate in a magnificent tower of terracotta that can hold plants for the garden. All tools and tiles are supplied for the duration of the workshop.
TICKET PRICING & MATERIAL COST:
Regular ticket price (April 19 @ 12pm – July 3 @ 11:30pm): $395
NBCCD staff, faculty, and current students (including 2023 graduates) receive 20% off regular ticket sales while supplies last. Find the NBCCD Discount ticket below.
Additional material fees: +/- $50. Participants will need 3-5 terracotta pots, the largest should have a circumference no more than 12" and the others in varying sizes. A few weeks before the course the instructor will email more details on what to purchase.
Instructor will provide plants from her garden to use in your sculptures.
FAQ and refund information can be found at the bottom of this page.
THE INSTRUCTOR:
Sheryl Crowley is a painter and a mosaicist who creates works of art reflecting both the whimsy and darkness that she finds in the world. Working since 2005, she has exhibited, taught and created within both public and private spheres. She may be found in Saint John, NB.
FAQ
Refunds
If a request for a refund is made between 8 and 14 days before the course begins, a 95% refund will be granted (5% will be retained to cover processing fees). If a request for a refund is made 7 days or fewer before the course begins, a refund will only be granted if the participant's spot is able to be filled.
If a participant is unable to attend a course due to illness or family emergency, they may be eligible to receive a voucher for a portion of the course fee. The participant must notify the HFS Coordinator at HoneybeeFolkSchool@nbccd.ca as soon as possible. The voucher amount will be determined on a case-by-case basis and may be up to 75% of the course fee.
Cancellations
If a workshop is cancelled due to unforeseen circumstances regarding the instructor, facilities or low enrolment, a 100% refund will be granted to registered participants.
If a class is cancelled due to inclement weather a new date will be set. If a participant cannot attend the rescheduled time, you will be granted a 100% refund.
For more information regarding cancellations, refunds, and our policies, please refer to our list of frequently asked questions.