Courses
Gather together with makers of all levels to learn new skills and celebrate traditional crafts and regenerative living. Whether you're interested in half-day workshops or multi-week courses, there's something for everyone! Located in Fredericton, New Brunswick, Canada, we offer hands-on experiences in a variety of subjects, all taught in either the beautiful studios at the New Brunswick College of Craft & Design (NBCCD) or one of our partnering locations.

FULL Learn Blacksmithing Basics: Kitchen Utensils | Tom Toogood
October 7 @ 9:00 am

-

October 8 @ 4:00 pm

$164.00 – $205.00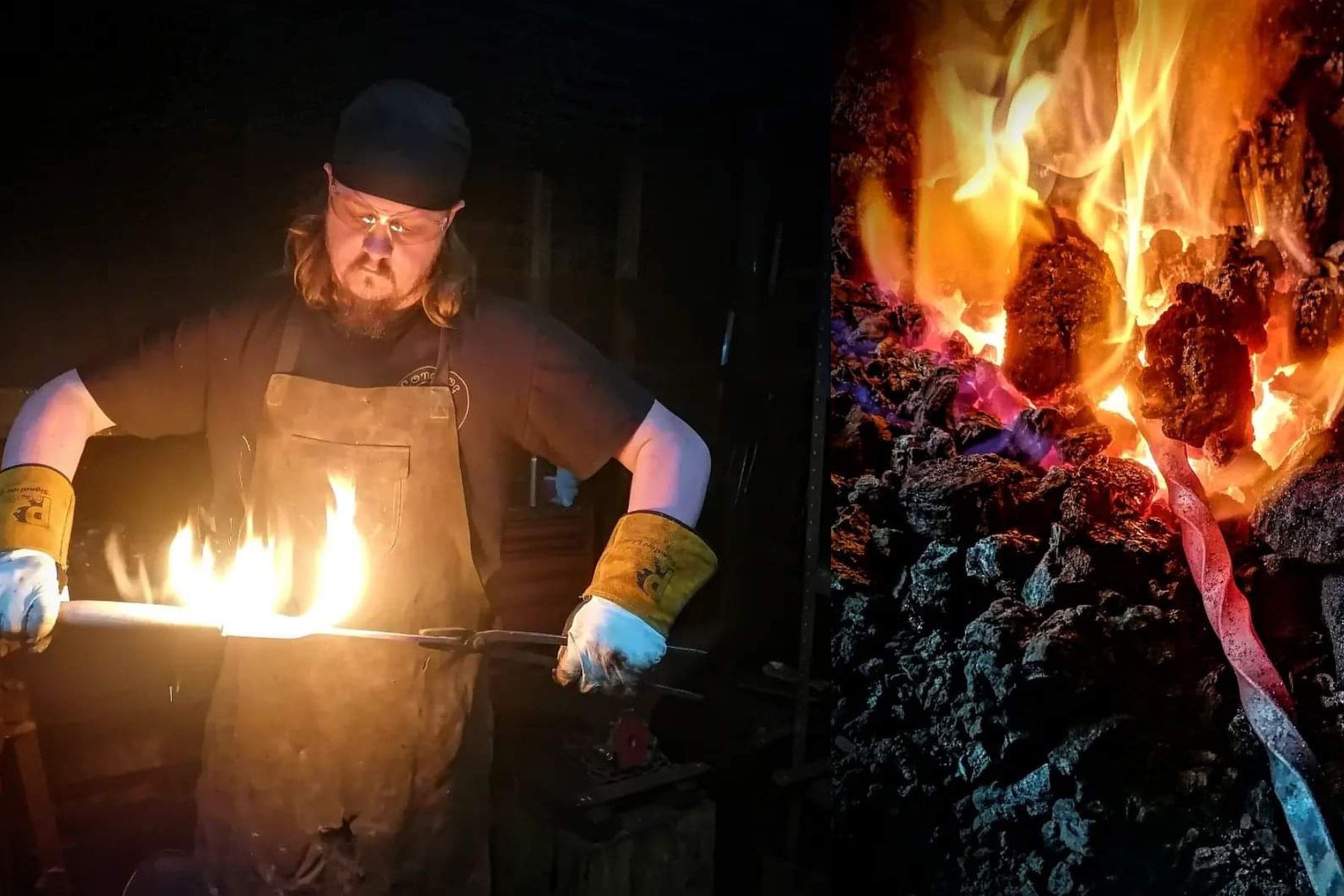 2-DAY WORKSHOP (Saturday/Sunday | October 7/8 | 9 AM – 4 PM)
*Please send us an email at honeybeefolkschool@nbccd.ca to be added to the waitlist.
Learn blacksmithing basics by creating your own kitchen utensils in our hands-on workshop. Craft exquisite ​kitchen tools including coffee scoops, spatulas and skewers blending tradition with modern craftsmanship. Under guidance of Blacksmith Tom Toogood, beginners, and enthusiasts will shape raw metal into a functional and beautiful collection of kitchen essentials. No prior experience is required. Unleash your inner blacksmith and embrace the rhythmic clanging of hammers in this rewarding and captivating course. Bring your passion and learn blacksmithing basics through the heat of the forge!
TICKET PRICING & MATERIAL COST:
Regular ticket price (August 15 @ 12pm – October 1 @ 11:30pm): $205
NBCCD staff, faculty, and current students (including 2023 graduates) receive 20% off regular ticket sales while supplies last. Find the NBCCD Discount ticket below.
Additional material fee: $75 paid to instructor on the day of the workshop.
Materials to bring: ​natural fibre clothing and closed toe shoes and keep in mind these courses are taking place in the casemates at NBCCD, in a covered semi-outdoor environment so please dress for the weather.
FAQ and refund information can be found at the bottom of this page.
THE INSTRUCTOR:
Tom Toogood, is an expert blacksmith and the creative force behind Longdog Smithy. For the past 13 years, Tom has honed his skills and forged a reputation as a skilled artisan in the idyllic landscapes of Devon, England. Trained at Hereford College, his journey began with a deep passion for blacksmithing and a commitment to preserving age-old traditions. As Tom and his family prepare to embark on a new adventure in New Brunswick, their move marks the dawn of an exciting new chapter for Longdog Smithy, as this esteemed blacksmith carries his expertise and passion to inspire a fresh community of learners and artisans.
Learn more about what we do at Honeybee Folk School and what courses we have coming up!
FAQ
Refunds
If a request for a refund is made between 8 and 14 days before the course begins, a 95% refund will be granted (5% will be retained to cover processing fees). If a request for a refund is made 7 days or fewer before the course begins, a refund will only be granted if the participant's spot is able to be filled.
If a participant is unable to attend a course due to illness or family emergency, they may be eligible to receive a voucher for a portion of the course fee. The participant must notify the HFS Coordinator at HoneybeeFolkSchool@nbccd.ca as soon as possible. The voucher amount will be determined on a case-by-case basis and may be up to 75% of the course fee.
Cancellations
If a workshop is cancelled due to unforeseen circumstances regarding the instructor, facilities or low enrolment, a 100% refund will be granted to registered participants.
If a class is cancelled due to inclement weather a new date will be set. If a participant cannot attend the rescheduled time, you will be granted a 100% refund.
For more information regarding cancellations, refunds, and our policies, please refer to our list of frequently asked questions.