Courses
Gather together with makers of all levels to learn new skills and celebrate traditional crafts and regenerative living. Whether you're interested in half-day workshops or multi-week courses, there's something for everyone! Located in Fredericton, New Brunswick, Canada, we offer hands-on experiences in a variety of subjects, all taught in either the beautiful studios at the New Brunswick College of Craft & Design (NBCCD) or one of our partnering locations.

FULL Intermediate Ceramic Techniques | Leigh Merrit
October 12 @ 6:00 pm

-

November 23 @ 9:00 pm

$250.00 – $312.00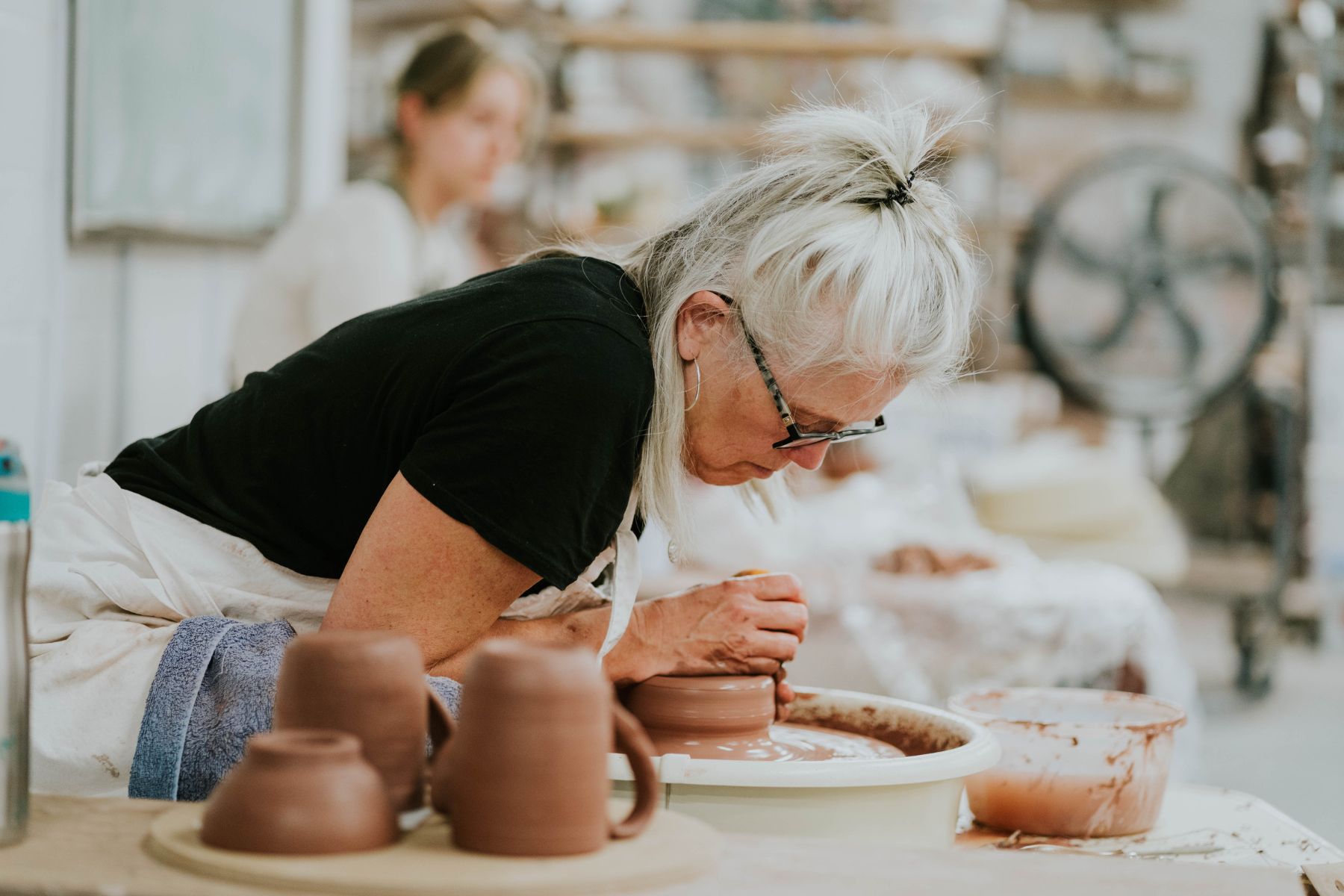 SEVEN WEEK COURSE, Every Thursday from 6 PM – 9 PM
Intermediate Ceramic Techniques!
Dates: Thursdays
October 12, October 19, October 26
November 2, November 9, November 16, November 23
Do you have prior experience with the pottery wheel and want to learn more ceramic techniques? Then this class will expand your knowledge in pottery and practice new ceramic techniques. You will place your focus on increasing wheel throwing and trimming methods, before potentially expanding into decorating skills. While in this course, you will learn more advanced ceramic techniques to attach and build by hand in a way that is enjoyable and fun. Join this course now to expand your abilities and become a better ceramics artist. 
TICKET PRICING & MATERIAL COST:
Regular ticket price (August 15 @ 12pm – October 5 @ 11:30pm): $312
NBCCD staff, faculty, and current students (including 2023 graduates) receive 20% off regular ticket sales while supplies last. Find the NBCCD Discount ticket below.
*This course is full. Please send us an email at honeybeefolkschool@nbccd.ca to be added to the waitlist.
Additional material fees:
On the first evening participants will be required to purchase materials below  Materials available in the College Store.  
Box of cone six clay – (price varies per box of clay). One-two boxes may be necessary. Pottery tool sets  are available at the college store or students are welcome to bring their own set of tools
FAQ and refund information can be found at the bottom of this page.
THE INSTRUCTOR:
Born in Fredericton, New Brunswick, Leigh Merrit grew up in the rural community of Tay Creek where he currently resides. After completing his BA at St.Thomas University in 2005 Leigh went on to study at the New Brunswick College of Craft & Design (NBCCD). He earned his Foundation Visual Arts Certificate in 2006, a Certificate in Specialty Photography in 2008, a Diploma in Fine Craft – Ceramics in 2010, and the certificate in Advanced Studies Visual Arts in 2011.
Learn more about what we do at Honeybee Folk School and what courses we have coming up!
FAQ
Refunds
If a request for a refund is made between 8 and 14 days before the course begins, a 95% refund will be granted (5% will be retained to cover processing fees). If a request for a refund is made 7 days or fewer before the course begins, a refund will only be granted if the participant's spot is able to be filled.
If a participant is unable to attend a course due to illness or family emergency, they may be eligible to receive a voucher for a portion of the course fee. The participant must notify the HFS Coordinator at HoneybeeFolkSchool@nbccd.ca as soon as possible. The voucher amount will be determined on a case-by-case basis and may be up to 75% of the course fee.
Cancellations
If a workshop is cancelled due to unforeseen circumstances regarding the instructor, facilities or low enrolment, a 100% refund will be granted to registered participants.
If a class is cancelled due to inclement weather a new date will be set. If a participant cannot attend the rescheduled time, you will be granted a 100% refund.
For more information regarding cancellations, refunds, and our policies, please refer to our list of frequently asked questions.