Courses
Gather together with makers of all levels to learn new skills and celebrate traditional crafts and regenerative living. Whether you're interested in half-day workshops or multi-week courses, there's something for everyone! Located in Fredericton, New Brunswick, Canada, we offer hands-on experiences in a variety of subjects, all taught in either the beautiful studios at the New Brunswick College of Craft & Design (NBCCD) or one of our partnering locations.

FULL Learn Blacksmithing Basics: Cheese Knives | Tom Toogood
October 1 @ 9:00 am

-

4:00 pm

$89.00 – $119.00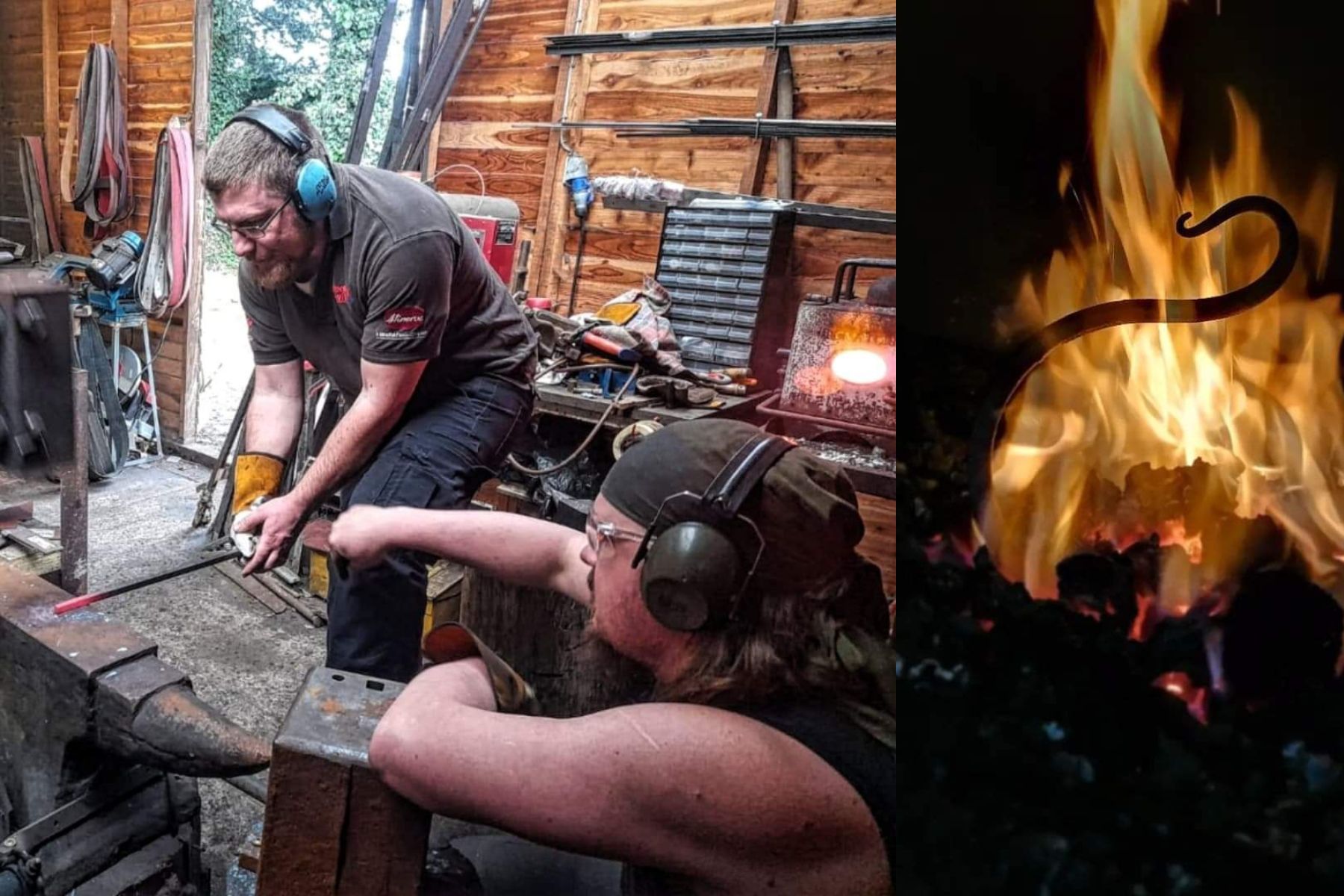 1-DAY WORKSHOP
Learn blacksmithing basics, and try your hand at the forge as you step into a world of rhythmic hammer strikes and glowing metal. Embark on your blacksmithing journey of transforming metal into functional household objects. Blacksmith, Tom Toogood will guide you through the time-honored techniques to help you bring your unique cheese knives to life. With hands-on experience, you'll shape raw steel into functional works of art, mastering the art of forging and tempering along the way. Craft ​a selection of unique cheese knives and spark a passion for the forge along the way. Join a community of learners, where knowledge and inspiration are shared in a supportive environment, catering to all skill levels. Enroll today to learn blacksmithing and experience the sheer joy of creating something remarkable with your own hands.
TICKET PRICING & MATERIAL COST:
Regular ticket price (August 15 @ 12pm – September 24 @ 11:30pm): $119
NBCCD staff, faculty, and current students (including 2023 graduates) receive 20% off regular ticket sales while supplies last. Find the NBCCD Discount ticket below.
Additional material fee: $30 paid to instructor on the day of the workshop.
Additional Instructions: bring ​natural fibre clothing and closed toe shoes and keep in mind these courses are taking place in the casemates at NBCCD, in a covered semi-outdoor environment so please dress for the weather.
FAQ and refund information can be found at the bottom of this page.
THE INSTRUCTOR:
Tom Toogood, is an expert blacksmith and the creative force behind Longdog Smithy. For the past 13 years, Tom has honed his skills and forged a reputation as a skilled artisan in the idyllic landscapes of Devon, England. Trained at Hereford College, his journey began with a deep passion for blacksmithing and a commitment to preserving age-old traditions. As Tom and his family prepare to embark on a new adventure in New Brunswick, their move marks the dawn of an exciting new chapter for Longdog Smithy, as this esteemed blacksmith carries his expertise and passion to inspire a fresh community of learners and artisans.
Learn about more about what we do at Honeybee Folk School and what courses we have coming up!
FAQ
Refunds
If a request for a refund is made between 8 and 14 days before the course begins, a 95% refund will be granted (5% will be retained to cover processing fees). If a request for a refund is made 7 days or fewer before the course begins, a refund will only be granted if the participant's spot is able to be filled.
If a participant is unable to attend a course due to illness or family emergency, they may be eligible to receive a voucher for a portion of the course fee. The participant must notify the HFS Coordinator at HoneybeeFolkSchool@nbccd.ca as soon as possible. The voucher amount will be determined on a case-by-case basis and may be up to 75% of the course fee.
Cancellations
If a workshop is cancelled due to unforeseen circumstances regarding the instructor, facilities or low enrolment, a 100% refund will be granted to registered participants.
If a class is cancelled due to inclement weather a new date will be set. If a participant cannot attend the rescheduled time, you will be granted a 100% refund.
For more information regarding cancellations, refunds, and our policies, please refer to our list of frequently asked questions.