Courses
Gather together with makers of all levels to learn new skills and celebrate traditional crafts and regenerative living. Whether you're interested in half-day workshops or multi-week courses, there's something for everyone! Located in Fredericton, New Brunswick, Canada, we offer hands-on experiences in a variety of subjects, all taught in either the beautiful studios at the New Brunswick College of Craft & Design (NBCCD) or one of our partnering locations.

FULL Learn Jewellery Making | Intro to Jewellery Making | Mackenzie Russell
October 12 @ 6:00 pm

-

November 23 @ 9:00 pm

$250.00 – $312.00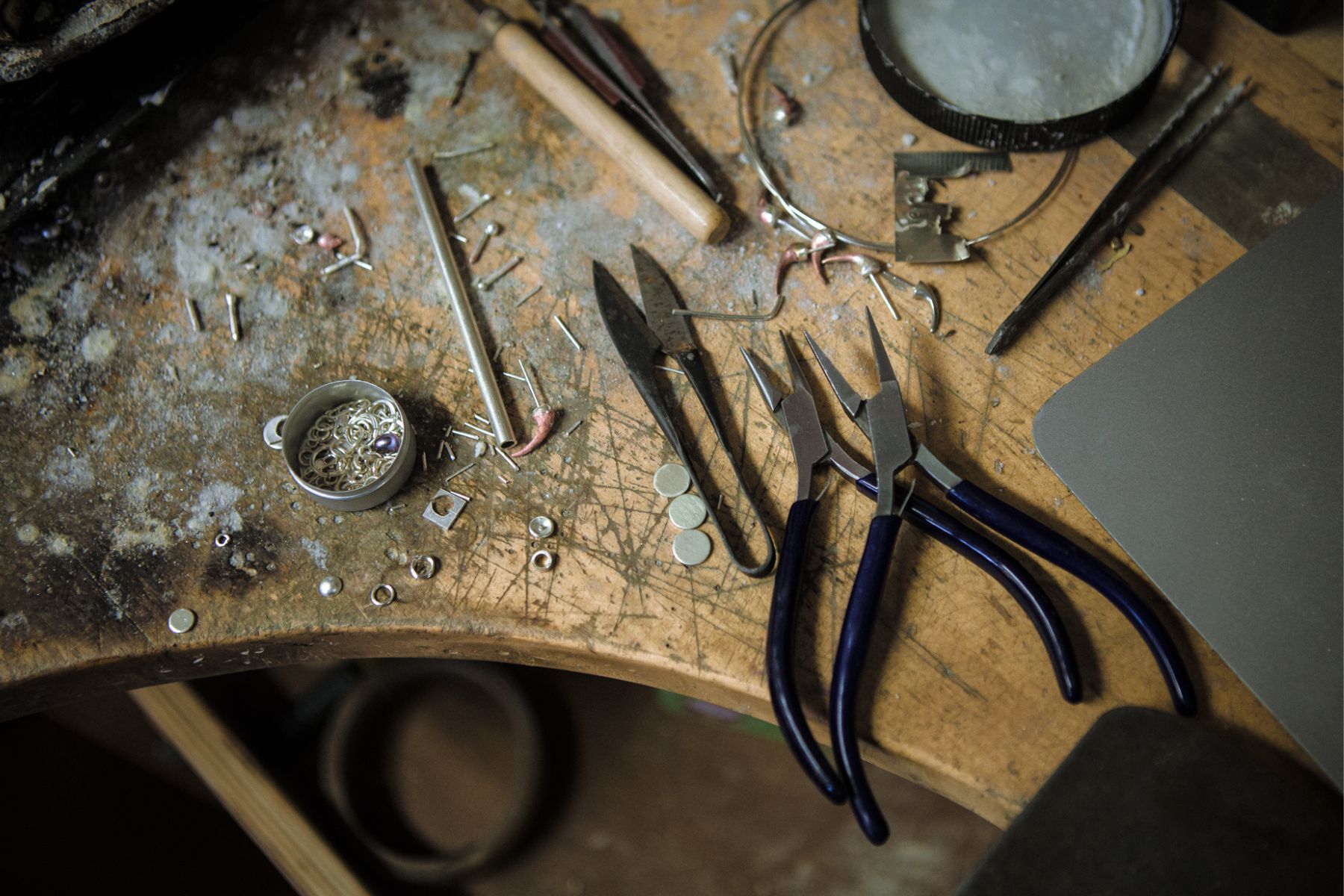 7-WEEK COURSE, Thursdays from 6 PM – 9 PM
Learn Jewellery Making!
Dates: Thursdays
October 12, October 19, October 26
November 2, November 9, November 16, November 23
Whether you've been curious about the craftsmanship behind your precious jewellery or have dabbled in jewellery making yourself, this course caters to you! Join the talented Mackenzie Russell for an engaging 7-week journey to learn jewellery making.
In our well-equipped studio, you'll embark on your jewellery-making adventure, starting with the basics. Under Mackenzie's guidance, you will learn essential benchwork techniques like sawing, piercing, filing, and sanding. Once you've mastered these techniques, you'll advance to using the jeweller's torch to bring your pieces to life. Finally, you'll perfect your creations, ensuring they are beautifully finished and polished, ready to be worn with pride, all while maintaining a safe and healthy environment.
Throughout the course, you will work with a variety of materials, including copper, brass, and sterling silver. With these materials, you will craft a pendant, create a pair of earrings, and even design one or two band rings. This course serves as a strong foundation for future, more advanced jewellery-making courses. Don't miss this opportunity to explore the art of jewellery making with Mackenzie Russell's expert guidance!
TICKET PRICING & MATERIAL COST:
Regular ticket price (August 15 @ 12pm – October  3 @ 11:30pm): $312
NBCCD staff, faculty, and current students (including 2023 graduates) receive 20% off regular ticket sales while supplies last. Find the NBCCD Discount ticket below.
Additional material fees: $100-200 depending on the thickness and size of the sterling silver.
FAQ and refund information can be found at the bottom of this page.
THE INSTRUCTOR:
Mackenzie, the Jewellery/Metal Arts Studio technician for NBCCD, ensures the smooth operation of the studio. He actively orders materials, organizes the workspace, and maintains its efficient functioning. An aspiring alchemist and armchair philosopher, Mackenzie draws inspiration from liberal pursuits, seeking to translate conceptual ideas into visually captivating pieces of art.
Learn more about what we do at Honeybee Folk School and what courses we have coming up!
FAQ
Refunds
If a request for a refund is made between 8 and 14 days before the course begins, a 95% refund will be granted (5% will be retained to cover processing fees). If a request for a refund is made 7 days or fewer before the course begins, a refund will only be granted if the participant's spot is able to be filled.
If a participant is unable to attend a course due to illness or family emergency, they may be eligible to receive a voucher for a portion of the course fee. The participant must notify the HFS Coordinator at HoneybeeFolkSchool@nbccd.ca as soon as possible. The voucher amount will be determined on a case-by-case basis and may be up to 75% of the course fee.
Cancellations
If a workshop is cancelled due to unforeseen circumstances regarding the instructor, facilities or low enrolment, a 100% refund will be granted to registered participants.
If a class is cancelled due to inclement weather a new date will be set. If a participant cannot attend the rescheduled time, you will be granted a 100% refund.
For more information regarding cancellations, refunds, and our policies, please refer to our list of frequently asked questions.